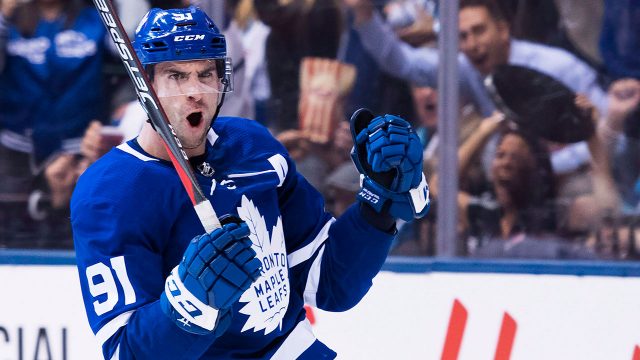 TORONTO _ Dylan Larkin scored a 2:48 of overtime as the Detroit Red Wings beat the Toronto Maple Leafs 5-4 in overtime on Thursday despite blowing a three-goal lead in the third period.
Larkin moved in on a breakaway after taking a pass over the top from Gustav Nyquist, who had a goal and two assists, and beat Garret Sparks between the pads to snap the Leafs' five-game winning streak.
Mike Green, with a goal and an assist, Jonathan Ericsson and Luke Glendening also scored for Detroit (13-12-4). Former Leafs goalie Jonathan Bernier stopped 27 shots for the Wings. Larkin also had an assist.
Stream Maple Leafs hockey on Sportsnet NOW
Sportsnet NOW gives you access to over 500 NHL games this season, blackout-free, including Hockey Night in Canada, Rogers Hometown Hockey, Scotiabank Wednesday Night Hockey, the entire 2019 Stanley Cup Playoffs and more.
CHOOSE PLAN
Andreas Johnsson and Kasperi Kapanen, with a goal and an assist each, John Tavares and Zach Hyman scored for Toronto (20-8-1). Jake Gardiner added two assists.
Garret Sparks made 27 saves …read more
Source:: Sportsnet.ca
(Visited 1 times, 1 visits today)