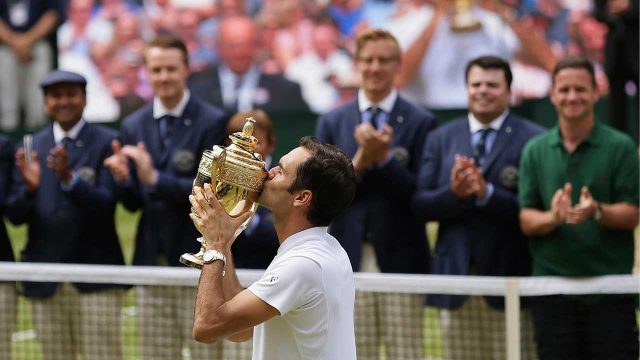 Roger Federer added to his already illustrious career with his eighth Wimbledon title on Sunday, beating Marin Cilic with relative ease.
The 35-year-old never even dropped a set throughout his run at the All England Club, and with his 19th Grand Slam title – most by any man in history – he further cemented his legacy as the best to ever play.
What it means to make history…#Wimbledon @rogerfederer pic.twitter.com/amzokbYM36
— Wimbledon (@Wimbledon) July 16, 2017
Roger Federer Slams
2003—
2004—
2005—
2006—
2007—
2008—
2009—
2010—
2012—
2017—#Wimbledon
— Ben Rothenberg (@BenRothenberg) July 16, 2017
https://t.co/aqKWuhUVZJ
— Geoff Lowe (@LoweDown21) July 16, 2017
Roger Federer's 2017:
Australian Open
Indian Wells
Miami
Halle
Wimbledon
— Caroline Cameron (@SNCaroline) July 16, 2017
Federer is incredible. So awesome to watch greatness like him.
— Graham DeLaet (@GrahamDeLaet) July 16, 2017
Roger Federer is one of the great sportsmen of our generation. #AllClass
— Scott Moore (@MooreScottmoore) July 16, 2017
Well hello old friend… #Wimbledon pic.twitter.com/QvtisnHl72
— Wimbledon (@Wimbledon) July 16, 2017
Crying Roger has quite the pull on my heart strings #Wim8ledon
— Chicco Nacion (@chicco_n) July 16, 2017
Slam Wimbledon 19
Source:: Sportsnet.ca
(Visited 19 times, 1 visits today)